Canine Rehabilitation and Personalized Dog Exercise Programs
Dogs are physically like humans in many ways. They can get out of shape, injured and grow old. Just like humans, dogs can become healthier and stronger with specific and regular physical exercise.
Dr. Michelle Rose is a Certified Canine Rehabilitation Practitioner, a specialist in canine rehab and dog exercise. Because she is a veterinarian, she can also help your dog with medical and pain management issues. If you have a dog that is injured or recovering from a recent surgery, Dr. Rose can assess its current mobility and pain level, then develop a therapeutic exercise program to address its specific needs. She can also utilize cold laser therapy and prescribe medications to help alleviate its pain. And, just like a human, your dog will soon begin to move, look and feel better.
If you have an older dog that is having difficulty getting around, Dr. Rose can custom-fit a support harness or mobility device. Then, she will help your dog become stronger and more mobile with special exercises designed to complement the device. Your dog will once again be able to accompany you on a walk or ride along to visit family and friends.
Some of the Canine Rehabilitation Services that Dr. Michelle Rose Offers: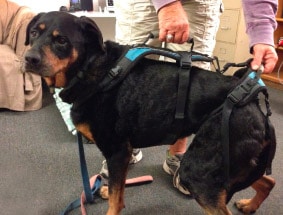 Dog fitness evaluations
Personalized therapeutic exercise programs, performed in the clinic or at home
Post operative canine rehabilitation
Pain management services
Cold laser therapy for dogs
Mobility device fittings (carts)
Support harness fittings
Incontinence management
Pain evaluation for injured, ill or older dogs
If you are looking for a caring, thorough and gentle veterinarian to get your dog moving better and feeling good again, Dr. Michelle Rose would like to help. Contact her now »